Sunday 30 March 2008 at 12:50 pm ¶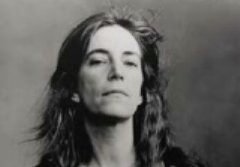 Technically speaking this one shouldn't even be here, as - although it is on YouTube - it is not a video. However, since the song is so awesome, I won't let such minor technicalities prevent me from posting this.
Patti Smith, often called the "Godmother of punk" or "poet laureate of punk", takes the Nirvana classic Smells Like Teen Spirit and adds her own personal touch. Thus she provides us with an
amazingly heart-felt song
that shows both respect to Kurt Cobain, and is a masterpiece on its own. Beautiful, yet effective.