08 01 11 - 12:01

The development of the internet technology has not only brought us dozens of social networking sites and streaming media, but also an improved access to gaming treasures of the past. Thanks to Flash and Java, and the enthusiastic retro community, there is no longer a need to fiddle with emulators and ROM files when hit by the sudden urge to revisit a game from ones childhood. Admittedly, for the most authentic experience emulators are the way to go, but for that quick 8-bit spree these sites are marvellous.
Take a look at
C64i.com
for instance: within a click you have dozens of classic Commodore 64 games to play, including
Commando
,
Super Sprint
,
Spy vs. Spy
and even
The Great Giana Sisters
. It's fair to point out that while most games do seem to run flawlessly, there are cases when the emulation is less than perfect. It's only a minor annoyance, however, as the site features more games than one can ever hope to complete.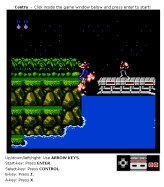 Besides, the mighty C64, Nintendo's
NES
and
SNES
, and
Sega Master System
are well-catered for. Even
Apple II
has its own site of browser-playable games. What does put me down a bit is that I've been struggling to find one for my beloved Amstrad CPC.. but I'm not worried, with the fanbase it has in the UK someone is bound to set one up soon enough!