24 11 10 - 16:52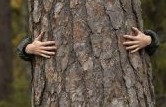 At
A Click for the Forest Foundation
website you can donate 1 SEK (equivalent of about EUR 0,10) for forest preservation with a simple click of a button. The funds are used to protect old growth forests of Sweden.
"The amount of forest saved per click varies between 2-30 square decimetres depending on how many sponsors we have at the time of your click and how much the sponsors are paying per click."
On the same site it is also possible to buy for example a whole tree for the price range of SEK 50 to 350, among other products. Nature protection made easy - heartily recommended!