09 09 08 - 13:38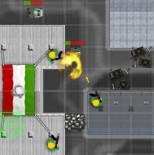 "The CIA has been encouraging the Hungarian people to rebel against their Soviet masters for over six years. They have also been supplying the freedom fighters with cash and weapons. It's October 23, 1956 and it's time to fight."
In
Budapest Defenders
your task is to defend the Hungarian headquarters from the invading Soviet forces. The highly limited resources need to be divided to build barricades and arm rebels, carefully constructing a defence network that the 30 increasingly massive waves of Russian troops cannot penetrate.
The plot of this actually fun and challenging game is set on historical context; the Hungarians did rebel against Soviet Union on October 23rd, 1956. However, less than two weeks later the rebellion was crushed.