07 07 08 - 11:25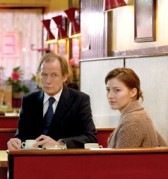 I guess everyone has at some point of their life seen a movie that they'veloved so much they would have wanted to share it with the rest of the world. For me that happened with
Christiane F
, and I ended up forcing various friends to watch it. However, I never came up with anything as ingenious as
Ingrid
who saw
The Girl in the Cafe
, fell in love with it, and sent the DVD on a tour around the world, hoping to gain the film as many viewers as possible. The concept is so awesome that it makes me kick myself for not thinking of it. The rules of the project are simple; you sign up, and when you recive the DVD you watch it, review it on your blog, and send it off to the next person. I went and signed up for it a couple of months ago, and the Girl did finally reach me last week.
The Girl in the Cafe
is a romantic comedy with a serious message; every three seconds someone, somewhere dies due to extreme poverty, and it is possible to change it all by making a definite decision and committing to it. The romance is that of between a disillusioned, middle-aged civil servant Lawrence (Bill Nighy), and a young Gina (Kelly Macdonald) whom by chance he happens to meet at a cafeteria, and much of the film takes place at a G8 meeting location in Iceland.
It would be easy to blame the movie for oversimplifying the serious issue of extreme poverty; the film states that the choice to do so is down to 8 men - the leaders of the 8 wealthiest world nations. However, the major point in this film is that hiding behind the web of excuses and standard, inflexible processes is simply not enough. I am keen to agree on this; by cutting through the red tape it is possible to achieve more than going by the routine, accepting defeat and inefficiency. A better life may not be as simple to achieve as the film portrays, but it isn't as impossible as we are led to believe, either.
While agreeing with the issue raised in
The Girl in the Cafe
, I also enjoyed it as a film. The characters and dialogue were interesting and perfectly executed by the talented cast; especially Bill Nighy gives a great performance. The atmosphere in the movie can certainly perceived as cold by some, but personally I found it expressive and realistic, not entirely unlike the style of Finland's beloved Aki Kaurismäki. The camera catches emotion expressed in gestures, looks, and the scarce, yet witty dialogue. The only disturbing issue I have is with the long speeches towards the end of the movie, which unnecessarily feel rehearsed, but I respect their necessity in delivering the principal message of the film.
The Girl in the Cafe
doesn't show what happens in the end, but it leaves the viewer wishing all the best for Lawrence and Gina, and for the poor of the world.
More about the project over at
thegirlinthecafe.com
.