02 07 08 - 10:04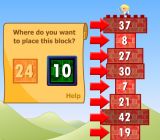 Tower Blaster
is a fun little logic game. You and your gang of little people compete against a gang of little vikings in building towers out of numbered blocks. The idea is to pile the blocks in a numerical order before the vikings manage to comete their own tower. The 8 levels provide enough fun for an hour or two.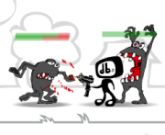 Doublesix games
is a media developer that creates games and other media applications for several platforms. They have discovered an amazing way to showcase their talent: by putting a simple, yet addictive game on the front page of their website! This fun little shooter is both entertaining and fun, and it sure does show that these guys can create quality stuff.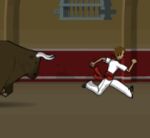 The Chase / Power Pamplona
is a game advertising
Rexona for men
, but it's also plenty of fun. The idea of the game is simple; run through the course before you get ran over. In the first level you're being chased by a bull in Spain. If you survive that, you get to choose from other destinations; for example in Germany you try to escape a crazed German Oktoberfest waitress carrying pints of beer, and in Switzerland you're snowboarding down a mountain. Fun!