05 06 08 - 08:30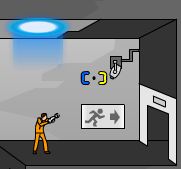 Portal
is a revolutionary modification for the award-winning
Half-Life 2
game from Valve.
Portal - the Flash Version
is an excellent fan-made game based on the idea of the Portal Gun from the original title. The Gun is able to shoot and open portals on walls, yellow and blue ones. Enter the yellow portal, and you come out of the blue one. And vice versa. Using the portals, your task is to make your way through 40 static stages of varying difficulty.
This is easily one of the classiest flash games I have come across. It takes a while to load, but is definitely worth it!