26 05 08 - 08:38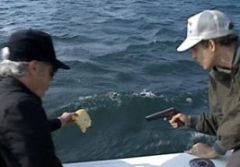 Fishing with John
is a brilliant fishing documentary series by the actor/author/musician John Lurie (
Down by Law, Stranger Than Paradise
). While John knows absolutely nothing about fishing, he still manages to convince his celebrity friends (Jim Jarmusch, Tom Waits, Willem Dafoe, Matt Dillon, Dennis Hopper) to come along on elaborate fishing trips. Cheap production values, hilarious and completely irrational narration, and the unforeseen accidents all combine into one of the funniest documentaries ever made, and a true cult classic.
This is the first episode, in which John takes his pal Jim Jarmusch (director of
Broken Flowers, Down By Law, Dead Man
fishing for shark. "Jim is on the verge of being pulled in and devoured by the blue shark", says the narrator, as they try to catch the shark with a pistol and a piece of cheese.
I wrote more about the series some time ago at
timo.herd.fi
.