07 05 08 - 11:26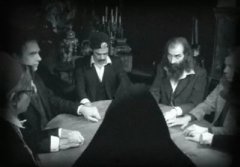 The new album of Nick Cave and the Black Seeds, "Dig, Lazarus, Dig!!!" came out some time ago, and turned out to be excellent. Before the release, there were seven peculiar promo videos posted over at YouTube. They feature Cave and his band at a spiritualistic session, and it's painfully obvious that none of them can act..
Part 1: "Lest I Shiver"
Part 2: "Place Your Hands Upon the Table"
Part 3: "Is There Spirits in the Room?"
Part 4: "Place Your Fingers Upon the Blanchette"
Part 5: Dim the Lights!"
Part 6: "Blindfold Me Sir!"
Part 7: "Can you feel the spirit?"