05 05 08 - 14:47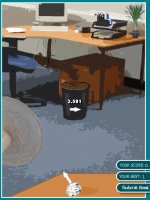 Throw Paper
is a simple game very much in the style of
Card Toss
from the previous time-wasting post. Bored at work, you set up a paper bin, produce lots of crumbled-up scrap paper sheets, and position your fan. Using the wind the fan is creating, you're supposed to throw the paper into the bin. Simple, fun, addictive, and excellent for killing some idle time!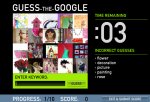 Guess the Google
is an interesting concept: the game shows a series of pictures, and your task is to guess the word that was entered in the Google search engine resulting in those pictures. It sounds simple at first; if you for example see pictures of bridges, you can pretty safely assume that the original search word was "bridge". But not all clues are as simple and straightforward as that..

Puki 3D
pits you against endless hordes of cute but bloodthirsty little critters, armed only with a laser gun. Your task is to wander through tunnels, firing at the cuddly, evil creatures and trying to survive as far as you can. Puki 3D features blood, guts and mayhem, and pretty impressive graphics for a simple online game!