29 04 08 - 10:24

There seems to be plenty of surprising stuff over at the BBC website. One of the strangeties is this
reaction test game
on which you're given the job of a shepherd. Armed with tranquilizer darts, you're trying to stop your flock of turbo charged sheep from escaping. One by one they try to make the run, and one by one you stop them with your darts. After five attempts you're given your reaction times and an overall grade of your performance. Fun, and oddly addictive!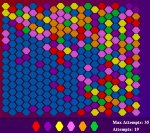 Virus 2
is a simple, yet challenging puzzle game. The aim is to make the virus spread from the bottom-left corner to cover the whole area. This is done by changing the colour of the virus, allowing it to spread further. A nice little brain-teaser that gets harder and harder, as the number of turns allowed is lowered each time you manage to spread the virus all over the field.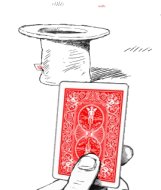 Card Toss
is a fun little game of throwing playing cards into a hat without having to find a real hat to toss cards into. No need to tediously pick up cards scattered on floors anymore! Nice hand-drawn graphics, smooth animation, and simple gameplay.
More waste of time to come (someday)!