17 04 08 - 10:13
Grand Prix Racing Online
is an online multiplayer Formula 1 management game, in which you take the role of the mastermind designing the strategy of your racing team. The tasks are numerous: hire and train drivers, develop the car, choose the correct settings for the track in question, plan the race strategy, and so on.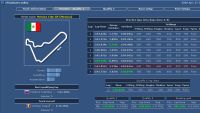 Essentially the game is not very complex, and learning the basic options is a breeze. The difficult part is finding out what the correct car setup might be; how to optimize the downforxe with front and back wings, what is the correct bias between engine power and acceleration, how much gasoline should the car have in the qualification stints and in the race, how many pit stop visits should there be in the race, what's the most excellent choice of tyres for the current weather, etc. Success comes with practice, experiment, trial and error. However, even the best planned tactics can fail simply because of a driver mistake, a crash, a sudden change in weather, technical errors, you name it.
The races take place on Tuesday and Friday evenings, and they can be followed live with real-time lap by lap updates, during which it is also possible to chat with other managers. The game has players from all over the world, but it seems to be most popular in the Baltic countries, Poland, Finland, and the UK. The community around the game is vibrant and friendly, which makes it very easy to get started. Nice!