18 03 08 - 13:09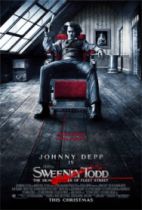 We went to see Sweeney Todd: The Demon Barber of the Fleet Street the other day. Kasia knew the story from before, while I knew only that the film was directed by Tim Burton and that it is starred by Johnny Depp and Helena Bonham-Carter. Seemed promising, as the trio has excelled before in for example Corpse Bride and Charlie and the Chocolate Factory.
Well, the movie wasn't too bad. It was definitely entertaining, the sets and dresses great-looking in their glum black&white way (with some splashes of bright red here and there), and the actors all sang their parts surprisingly well. However, despite looking exactly like any other Tim Burton movie, it lacked the soul and spirit of his earlier works like Edward Scissorhands, Nightmare before Christmas, and Corpse Bride.
I believe it comes down to the screenplay; in his best works Tim Burton has been involved with the story and the settings by himself, while in Sweeney Todd he has been assigned to work on someone elses script. It seems to me that since he had a fixed story to work on, he didn't manage to fit his soul into the film as he has managed before. In Sleepy Hollow and Big Fish he did do great with the script, but this time the effort fell a bit short.
Anyhow, as said earlier, the movie is entertaining and certainly a sweet treat for fans of the story, Johnny Depp, and/or Burtonesque settings.
Sweeney todd on IMDB