11 02 08 - 09:52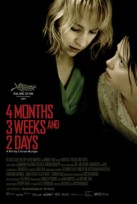 While a movie that focus on communist oppression and abortion is a bit peculiar choice to be shown at a company party, I am grateful I had the chance to see the Romanian Palme d'Or winner
"4 Months, 3 Weeks, 2 Days"
. While it certainly did have an effect on the party mood, I was delighted to see such a wonderfully constructed, multi-layered film.
"4 Months, 3 Weeks, 2 Days" relates a small story set in 1989, the last year of the Romanian communist regime. A student is pregnant, and the room mate knows someone who knows someone who can arrange an abortion. The brilliance of the film is in the nuances as much as in the main storyline; not much is explicitly shown on screen, but much is implied. Shadows on the dark streets, meaningful looks, sounds, camera locations, a single word carefully placed in the dialogue, a seemingly unimportant object... none of them are there by accident, and they all add layers to the film, expanding the message it carries. Thanks to the layers, this movie can be seen to be about communism, abortion (both pro and anti), friendship, oppression, hope, hopelessness, and/or martyrdom.
The direction and the excellent acting guarantee that "4, 3, 2" is a movie that will stay with you for weeks.
4, 3, 2 on IMDB