08 01 08 - 10:05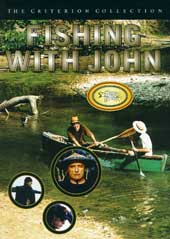 My father is a keen fisherman, but I most definitely am not. While I could probably deal with sitting on a river bank with a fishing rod in my hand, I'm pretty sure the problems would arise if I actually happened to catch something. The trouble required for transforming the freshly-caught fish into an edible dish would be just too overwhelming for me. And then there are all those
other
forms of fishing, like fish trapping, net fishing, fly fishing, trawling and so on - most of which would probably bore me to oblivion.
Despite (or because?) of all that, the fishing documentary series "Fishing with John" turned out to be the most awesome thing I've seen for a while (and amazingly, Kasia loved it too!).
Actor/director/musician John Lurie knows absolutely nothing about fishing, but his friends don't know that. In six episodes Lurie takes a friend (Jim Jarmusch, Tom Waits, Matt Dillon, Willem Dafoe and Dennis Hopper) on a fishing trip to an exotic location like Jamaica and Costa Rica, and hilarity ensues.
It's incomprehensible how Lurie managed to fund this series. Apparently it was produced for a Japanese broadcasting company back in early '90s, and it seems that the Japanese didn't set too high requirements for the program - which in this case is a blessing.
There are lots and lots of hilarious scenes: John and Jim Jarmusch discussing fishing movies (the only one they come up with is "Jaws"); trying to catch a shark with a piece of cheese and a pistol; Tom Waits putting a fish into his pants in order to "cure depression"; John and Matt Dillon making a tribal dance to increase their luck, Dennis Hopper explaining the ending of Easy Rider, Willem Dafoe starving to death on a frozen lake in Maine, etc.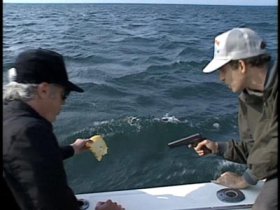 The best part of the series is the awesome narration by Roy Webb. With the voice of a serious documentary narrator the man utters the silliest and most misguided lines in the fishing history:
(With John and Matt Dillion sitting on a boat, bored and without saying a word for what seems like ages)
Narrator:
"Fishermen don't usually have much to say to each other."
"I think this is John's best show!"<
(The camera pointing at the foot of the Vietnamese guide)
Narrator:
Lan has wooden legs and real feet.
(John and Jim try to catch a shark with a cheese and a pistol)
Narrator:
Can I have a bite of your sandwich?
Take my word for it: "Fishing with John" is simply brilliant. Available in the
Criterion Collection
.