The best album of 2007
08 01 08 - 08:57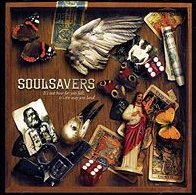 In my opinion the best music album of 2007 was the "It's Not How Far You Fall, It's the Way You Land" by Soulsavers. All songs last several listenings, and about half get better each time. Opens with a great, rusty, simple-yet-compelling Revival, keeps hooked through the entire album, finishes with an excellent cover of No Expectations by the Rolling Stones.
Brilliant music full of remorse and longing for revival, grasping a whiskey bottle. Awesome vocals of Mark Lanegan. The influence of Nick Cave, Tom Waits, Bob Dylan and Velvet Underground shine through.
There's a music video of "Revival" at
YouTube
and their
MySpace
has several samples.