Thursday 16 December 2010 at 12:12 pm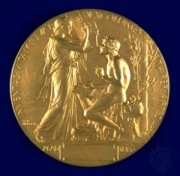 Sometimes it's really hard to find anything good to read. The internet is a great source for reviews, but even the highest-rated novels are potential disappointments; Jan Guillou's
Road to Jerusalem
(the first Arn novel) was one, for instance. It is hugely popular and received heaps of positive reviews, and yet it turned out to be hollow and amateurish in comparison to the true classics such as
Alamut
by Vladimir Bartol, or Mika Waltari's entire biography.
After agonizing over this for some time, it occured to me that literature award winners/nominees would be a good source for quality - and I was right! After reading a bunch of Nobel prize winners I'm convinced that the Swedish Academy has awarded top-notch novels and novelists (even in the old days when the Nordics seemed to win every year).
I recently took a tally of how many Nobel winning authors I have read, and I was pleased with the result: 17 so far! One from almost every decade, too; only missing the 1910's and the 2010's. Still a whole lot to go of course, but I have only just begun..
(more)