Thursday 08 January 2009 at 10:50 am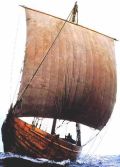 Some time ago
I wrote
about a rare sequel to the legendary Afrikan Tähti board game that we scored from an online auction. However, it's not the only game we have bought lately.
This time I will write about two great Viking board games that we have enjoyed a lot;
Walhalla
and
Fjords
.
The Vikings are coming!
(more)